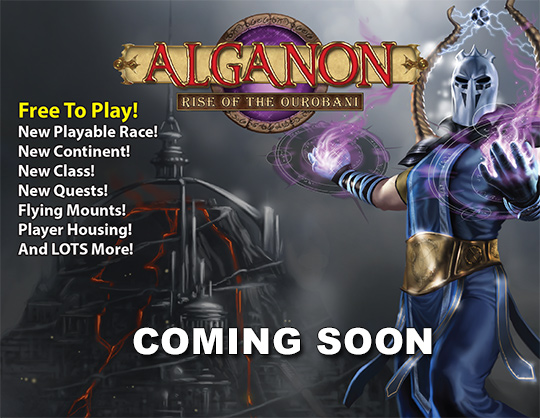 The world of Alganon is a battleground for the gods. The deities of the Kujix embrace change, conflict and knowledge, while the gods of the Asharr represent creation, fire and life. For centuries, the Kujix and Asharr have fought each other for dominance of Alganon, each side trying to outmaneuver each other in what has become known as the War of Conversion. But the balance of power, that has resulted in a stalemate for so long, has been broken.
Ouroban, a god believed lost to the void, has returned and brought with him secret knowledge about the portal system that enables the people of Alganon to travel freely about their world. With this knowledge, Ouroban has the power to transform, or even destroy, Alganon. The Temple and The Spindle, monuments built in Ouroban's name on the volcanic mount Ateis'Tepi, are the key to his secret. But before Ouroban could harness their power, one of his followers revealed what he knew to both the Kujix and Asharr.
Now, these bitter rivals have united to seize The Spindle, destroy Ouroban's followers, the Ourobani, and, if they can, take the power for themselves!
Introducing Alganon: Rise of the Ourobani!
Very soon the world of Alganon will be expanding and with it will come major change. As the Ourobani stake their claim to the continent of Aeon, the Asharr and Kujix have a new threat to contend with. Will they be friend or foe? Only time will tell, the gods themselves cannot say.
Alganon: Rise of the Ourobani will have these features and lot's, lot's more!
A brand new playable race, the Ourobani
A new, unique leveling experience in the new continent of Aeon
A new combat companion class playable by all races... The Warden
Flying mounts in Alganon: See the lands as never before as you ride your mount through the skies!
Player and Guild Housing will be available in each of the major cities, and on the island-city of Matma'el
A new PvP Battleground system with battles which will affect the greater game world
Hundreds of new quests and new types of quests
Alganon: Rise of the Ourobani coming soon!