Since I was recently promoted to "Public Relations Officer" in Ex Nihilo guild I thought I could use my new found diplomatic influence to try and bring a message of peace to our Kujix friends. There has obviously been some altercation in the past with these folks and it was high time to try and approach them and try to settle these differences between our two peoples so that we can move on and grow as an empire without fear of our brothers from across the pond stabbing us in the back...
With this in mind, I gathered up a couple of scribes and set them to work on a very important peace treaty that I, along with a few chosen people, would deliver.
With the scrolls all tightly bundled, our mounts freshly watered and our hopes high, we finally embarked on this most urgent mission. After arriving at the Ourobi portal we were dutifully informed that some mystical essence had corrupted our gateway and unfortunately we couldn't travel to all of the usual destinations. Consulting with my band of fellow diplomats (Anezaki and Izzy) we decided to travel to Hazzan Head and walk from there. Undeterred we found our bearings and set off south towards the Kujix capital and relished the thought of the fine meal and warm welcome we would get once we arrived.
After what seemed like hours of riding through this bleak landscape we finally arrived at the gates to the Kujix capital city of Xanjuix Karr and tried to, at least a little, dust ourselves off and make ourselves look presentable.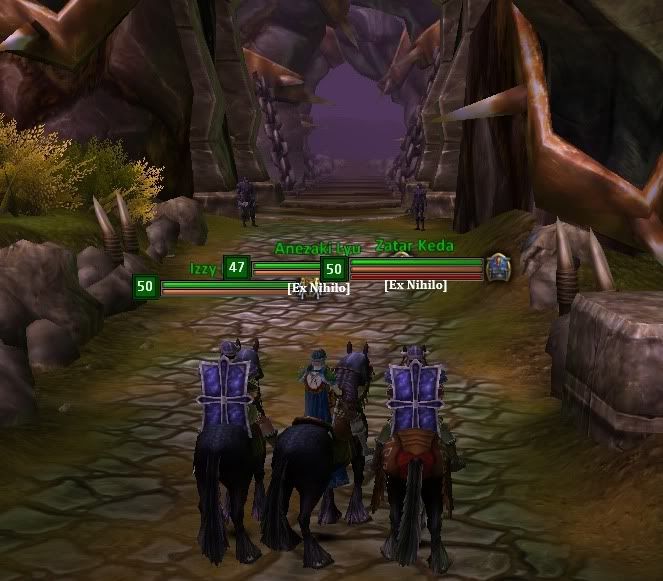 Entering the city we found that some of the guards must not have been informed of our arrival as obviously some sort of mix up had happened and they thought we were here to attack!
Obviously we were appalled at the very notion that we, on our mission of
peace
would be thought of as such common riff-raff. After this minor altercation with the guards we found ourselves in the centre of town looking for the official that was to greet us. After waiting a while it seemed he wasn't coming and our long ride may have been for naught! With sadness in our hearts we realized that the only option was for us to call by the bank, claim back our travel expenses and head back home.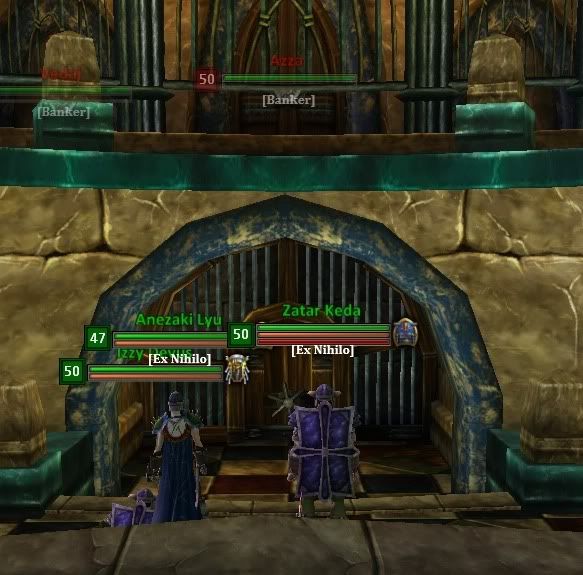 After a brief chat with Lorax who was one of the bankers on duty it appeared as though our security credentials were not satisfactory and we were asked to leave by one of the sentinels! Can you believe it? Not only was our credentials refused and we were unable to access our bank accounts but we were practically accused of having unlawful intentions! Fear not, fellow adventurers. We were able to talk our way out of the situation since we were, after all, diplomats and as such we have had many hours of studies in the art of negotiation.